SAY YES TO LIFE AND THE NATURAL FLOW OF OUR ENERGY
Tantra offers us a way out of our involuntary and exhausting mental activity, introduces us to the here and now, opens up an ocean of sensations and feelings, teaches us how to meet our beloved in deep acceptance and points us towards an integration that can radically change the quality of life we create for ourselves.
And, yes, Tantra also allows us to reach to a state of intimacy that celebrates sexual energy as part of being alive and, at the same time, enjoys the meeting of the male and female principle in vulnerability and awareness.
With a work that has been enchanting people around the world for 33 years, Homa & Mukto's workshops are a synthesis of therapy and a direct experience of the present moment.
"Tantra for us is a way of living"
HOMA & MUKTO
Tantra training 1
In this intense process, we are able to touch, understand and heal old wounds. Our hearts grow in strength and acceptance as we explore sexuality, sensitivity, personal power, and our ability to love. Transformation happens when we become conscious and present.
Tantra training 2
When we stop "doing," the natural flow of male and female energies affirms itself and dissolves the old fears. We experience satisfaction and melt into deep relaxation and intimacy. Sex becomes a door to meditation, awareness, and presence.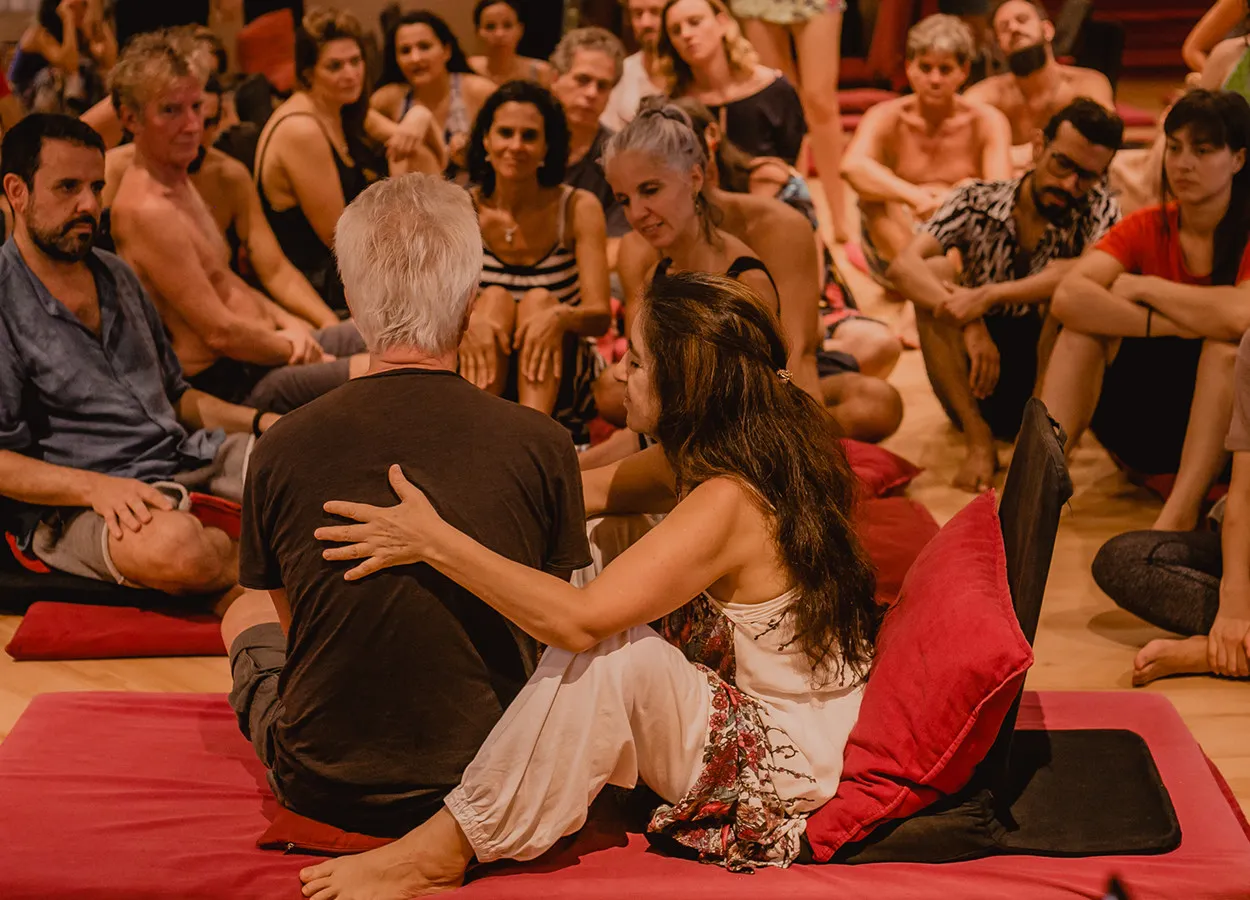 Tantra training 3
An energy reading training that builds confidence in our intuition. Special attention is given to issues directly related to sexuality and intimacy, such as synchronicity, body awareness, and touch.
Tantra for Homa and Mukto is a way of life, it is about integrating many aspects of life into a state of Yes, while sexuality is just one aspect of Tantra.
The first step to integrated sexuality is to unfreeze the repressed energies. We dare to question our limiting conditioning; we become alive and invite the new.
In the safety of a loving and conscious environment, this release can happen without becoming harmful or destructive.
When we learn to redirect our attention from analytical thinking to sensations and feelings, we naturally reconnect with our body, its ability to pleasure and its wisdom.
Incredible experiences of joy and intimacy can alternate with memories of painful emotions. Deep insights can happen.
Allowing for these experiences, our heart's ability to accept and integrate grows. Once we realize that living in vulnerability is our greatest strength, intimacy and sexuality become wonderful opportunities to discover ourselves and our loved ones.
Life becomes an adventure.
Let go of control.
Open heart chakra.
Explore authenticity.
Develop trust in each other.
Become present in our body.
Allow life energy to flow freely.
Explore different ways of touch.
Understand importance of feeling.
Stay centered in intimate situations
Be able to perceive the here and now.
Allow both pleasurable and disturbing emotions.
Understand compensations and allow vulnerability.
Face and overcome our fears of being invaded, controlled or rejected.
Be open and aware of synchronicity – a direct experience of ourselves and others.
In Part 2 our understanding of sexuality deepens. We leave behind the pressure to prove ourselves and we stop hiding our vulnerability.
The second part of the training offers us a totally new approach towards intimacy and sexuality in particular where sex doesn't need to be a stressful activity with an orgasm as the only acceptable outcome, but can be a relaxed and joyous meeting of lovers.
Instead of us rushing towards a climactic discharge in the future, we can allow sexual energy to rise and create a profound experience of completion and communion in the here and now.
The message is: Stop the doing and become aware of the natural flow of energy that happens whenever male and female polarities meet.
Once we learn how to be present in our body and to feel deeply whatever this intimate moment evokes inside of us, we will not only integrate the painful memories that keep us lonely, but also experience a merging of sex and meditation.
Prerequisite for participation: Tantra Training Part 1
Meet the other through the heart.
Explore the male and female polarity.
Be present in sex – sex as meditation.
Experience and integrate old wounds.
Explore the depth and the beauty of Intimacy.
Understand vulnerability versus compensation.
Reconnect to the natural flow of sexual energy.
Learn the difference between an orgasm and conscious sex.
If real and lasting transformation is possible, why do so many people, in spite of their best effort, lose hope, give up and live a life they do not really want?
Maybe the most important reason is that in our attempt to change, too many times we say 'no' to what we find inside of us.
Tantra tells us 'Be here and now' and 'Accept yourself' and 'Say yes to life', but what does that really mean? Can this be learned and taught and, if yes, how? Can we really stop to fight and find peace?
This third module is a laboratory and we are the objects of our own investigation. By exploring chakras, practicing energy reading and accessing the body's wisdom through felt perception, we experience ourselves and the unconscious forces that run our lives.
As you become experienced travelers in the inner world you learn what is needed to facilitate integration in ourselves and the people that come to seek your help.
Through meditation, lovingness and authenticity Homa & Mukto will be able to accompany your own journey.
How to be present.
Accept and say yes to life.
Learn to appreciate the unknown.
Communicate from the heart space.
Receive the gift of non-judgmental attention.
Learn how to read yourself and others energetically.
Perceive and be open for synchronicity and intuition.
Access and learn the differences between the body's wisdom versus mental analysis.
FACILITATORS
Homa & Mukto
Homa and Mukto are great friends with very different perceptions of life. It's these differences that keep their work fresh and alive.
Inspired by the visionary mystic Osho, their workshops are a synthesis of therapy and a direct experience of the present moment. Having met Osho over three decades ago their lives underwent through a radical change and it soon became clear they had a passion and gift for working with people.
Over the years they've received training from many world class therapists and meditation teachers in a variety of approaches.
Their work is unique and creates the ground for the magic of transformation. For the last several years they have specialized in Tantra, liberating sexual energy in a context of love and awareness.
From 2006 to 2015 they led tantra groups in the OSHO resort in Puna, India.
Currently they share their work in South America, Europe, the Middle East and Asia.
For the rest of the year they live in Fortaleza, Brazil at Osheanic International, the venue of their yearly Tantra Trainings.
For more information please fill up the form below: